Bobcat
15hp-52"
Wide Area
Mower

Specifications


Engine

Kohler
Command


Horsepower

15.0 hp
Cutting
Width

52"


Wheelbase

47.0"

Overall Width

58"

Overall Length

66.5"

Weight (Lbs. w/ deck)

350lbs.

Fuel Capacity

5 gallons

Turning Radius

0"

Warranty

1-year full



The Bobcat 1552 commercial walkbehind Lawnmower is the right
Mower for the Commercial
landscape operator with alot of small
lawns with lots to mow around.

The Bob cat 1552 commercial walk behind is especially suited to rough hilly lawns with great traction and
a low center of gravity

The Bob Cat 1552 commercial walkbehind mower
will waste no time in cutting
your toughest lawn down to size.

With extra heavy duty construction
the Bob-Cat 1552 commercial walkbehind mower will also
last a very long time making the
BobCat 1552 commercial walkbehind mower a great investment
for your home.

the Bob Cat 1552 commercial
walkbehind mower



Bobcat
15hp-52"

Wide Area
Mower
Bobcats #1 commercial
walkbehind
mower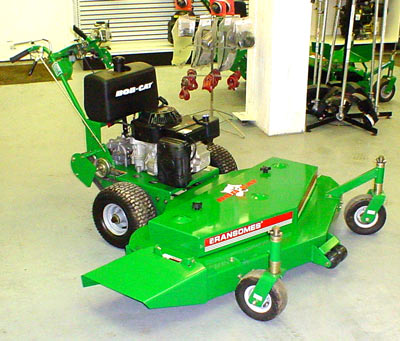 Premium Performance. Exceptional Value
Kohler Command Pro gas engine
5 gal. fuel tank
Zero-maintenance heavy duty spindles
Bob-Cat "Classic" handles and controls
52-inch cutting deck
7-gauge, unitized cutting and engine decks
Speeds: 5 forward, 1 reverse
2-Year CustomerOne Silver
Parts & Labor Warranty
Free Setup & Free Delivery in
The Greater Burlington VT-
Rutland VT-
Ticonderoga NY
Area !!!